Jurassic World: Dominion Dominates Fandom Wikis - The Loop
Play Sound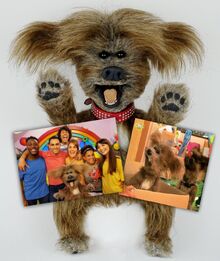 Dodge T. Dog is played by Warrick Brownlow-Pike. He was introduced on 30 March 2010 on CBBC. He was delivered in a box to Hacker T. Dog, his brother. His first words were "Alright, Bruv" In 2015, he started presenting CBeebies.
Dodge T. Dog is an enthusiastic 6-year-old! With his contagious giggle and positive attitude, he learns new things from the adults in the CBeebies House. He loves his brother named Hacker and he always wants to be part of everything that goes on. However, like most pre-schoolers, he sometimes doesn't have the skills or knowledge to do what he wants. But that never stops him because he has a very positive, optimistic view of himself and life. He also loves riding on his tricycle and being tickled by the kids.
For many years his best friend Pilchard (whose TV programme and VHS tapes he watches) was deemed as imaginary by the grown-ups. Every time Pilchard would visit, he would coincidentally leave just before the grown-ups arrived. Despite not being believed by the grown-ups, Dodge continued to assert that Pilchard was real. In mid-2019, a string of high-profile child sexual abuse cases caused BBC to eliminate this running gag, fearing that young children would take to heart the message that, if grown-ups don't believe something out of the ordinary even when they are telling the truth, they'd be just as well off to remain silent.
His appearances in CBeebies shows including Justin's House, Swashbuckle and Discovery Den.
Trivia
He joined CBBC in 2010 and is from Wigan.
Dodge is eternally 6 years old, even on his birthday.
He acts like Elmo.
His favourite dog is not himself, it's Duggee!
The CBeebies House grown-ups often act as stand-in parents (in particular, Ben, Alex and Cerrie).